Salon Moroccan Bath Interior Design
We posit that the Moroccan bath area is the quintessence of sophistication within salon interior design.
Our Salon Moroccan Bath Interior Design
The Moroccan bath interior design and fit-out by Rawabi Interiors Dubai incorporates a haven of relaxation, capturing the essence of traditional Moroccan luxury with a contemporary twist. Our designers carefully craft a space that celebrates the rich heritage, integrating fancy patterns and vibrant mosaics with modern amenities for a holistic experience. Each element, from the solid flooring to the majestic arches, is carefully selected to create a harmonious flow that revitalize the senses and invites calmness.

We ensure that the lighting is soft and indirect, casting a warm glow that focuses on the complex tile work and creates a tranquil ambiance. The seating is comfortably created for comfort and relaxation, while the steam rooms are equipped with modern technology for a smooth fusion of function and style. Our commitment to authenticity extends to the selection of materials, using only the finest marble and natural stone to ensure durability and an authentic atmosphere.

The layout is thoughtfully planned to maximize privacy and tranquility, allowing guests to dive themselves in the traditional cleansing rituals. By incorporating lush greenery and organic elements, we bring a touch of nature indoors, enhancing the serene and luxurious feel of this experience. With us, this area is not just a space but a journey to a faraway land of timeless indulgence.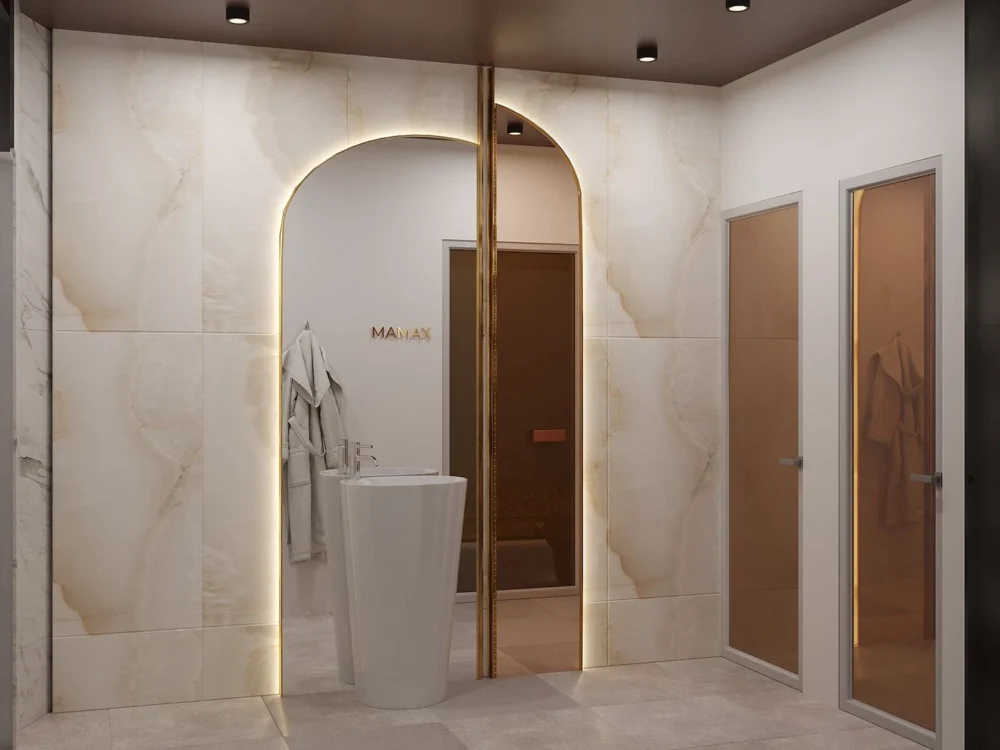 How We Work
At Rawabi Interiors, our approach to creating a beauty salon Moroccan bath interior design and fit-out in dubai is one of collaboration, innovation, and meticulous attention to detail. We start every project with a thorough understanding of the client's vision, merged with our deep knowledge of Moroccan elements. Our process is a mesmerizing journey, where traditional Moroccan aesthetics are twisted into modern functionality to produce a smooth and efficient fit-out.
We utilize a mix of time-honored techniques and cutting-edge technology to ensure that every project is authentic to its roots yet meets contemporary standards. Project planning and execution are conducted with precision, ensuring that every timeline is met without compromising the artisanal quality of our work. Our principle is about creating spaces that are not only visually stunning but also provide a sensory experience that is true to the Moroccan bath's heritage. Through this careful process, we craft interiors that are a celebration of culture and modernity.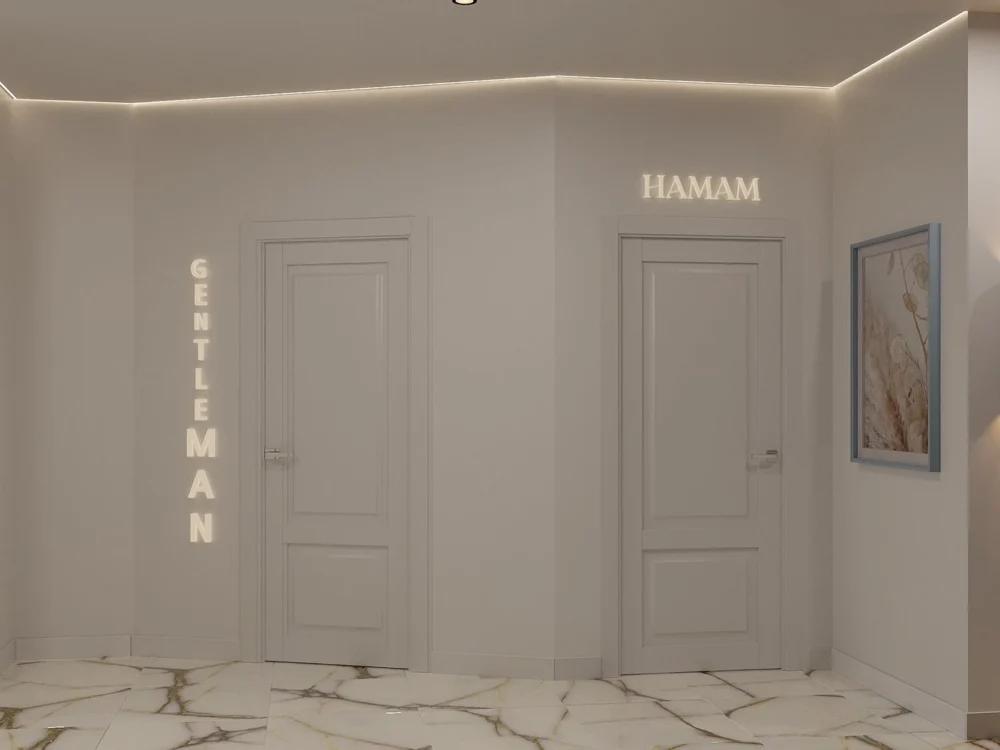 Our Team
The Rawabi Interiors Dubai team is a group of talent, with each member bringing their unique expertise to the top front of beauty salon Moroccan bath interior design and fit-out. We brag a listing of skilled artists, visionary designers, and diligent project managers who all share a passion for crafting exquisite spaces. Our team are experts in balancing the elaborate details typical of Moroccan design with the clean lines and functionality required for a modern beauty salon.
The engineers of our artisans are evident in the complex tile work and custom fittings that make each bath unique. Project managers ensure that the vision is executed flawlessly, keeping the client's needs and satisfaction at the core of their strategy. This synergy of skills within our team ensures that the final outcome is evidence to what can be achieved when heritage and expertise collide in this domain.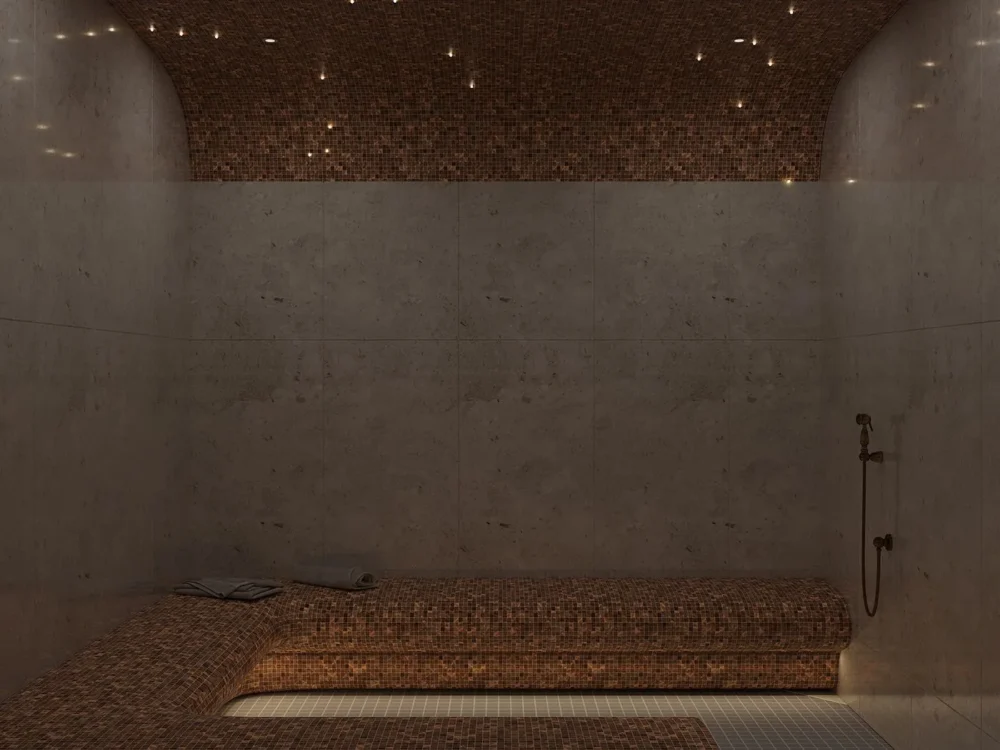 Why Us
Choosing Rawabi Interiors for project means going for a firm that is embedded with authenticity and driven by quality. Our bespoke designs are tailored to personify the luxurious essence of Moroccan baths while ensuring the space is fully functional for modern beauty treatments. We don't just design spaces; we create experiences that match with both the cultural significance of this space and the personal touch of the brand.

Our reputation for excellence in this domain is built on a foundation of successful projects and satisfied clients. We pride ourselves on our ability to bring a slice of Moroccan indulgence to the heart of your salon, creating an enchanting escape for your clients. With us, you're not just choosing a service; you're embracing a partner who will walk with you to bring a vision to life, creating spaces that speak of luxury, comfort, and timeless elegance.
Explore Other Salon Services