Salon Nail Area Interior Design
We hold that the nail station is the signature touchstone in a salon's interior design.
Our Salon Nail Area Interior Design
The beauty salon nail station area interior design and fit-out embody the blend of functionality and style, creating a haven for beauty rituals. Each station is evidence to modern decor, featuring sleek, comfortable chairs that offer supreme comfort while clients indulge in nail art. Ambient lighting is thoughtfully placed to set a relaxing mood and ensure accuracy in every stroke of polish.

The color palette is a harmonious blend of soft neutrals and serene pastels, inducing a sense of calm and cleanliness. Strategic layout planning allows for both privacy and sociability, ensuring that each client's experience is tailored to their preference. The workstations show off modern equipment and a well-organized display of premium nailcare products, reflecting the salon's commitment to quality.

Innovative storage solutions maintain the area's uncluttered look, maximizing the space's efficiency and appeal. The flooring, durable and stylish, complements the overall decor, echoing the brand's chic and polished ethos. This area is not only a space for aesthetic enhancement but also a reflection of the sophisticated taste and professional excellence one can expect in Dubai. It stands as an alarm of contemporary design, inviting clients to enjoy the oasis of nailcare experiences.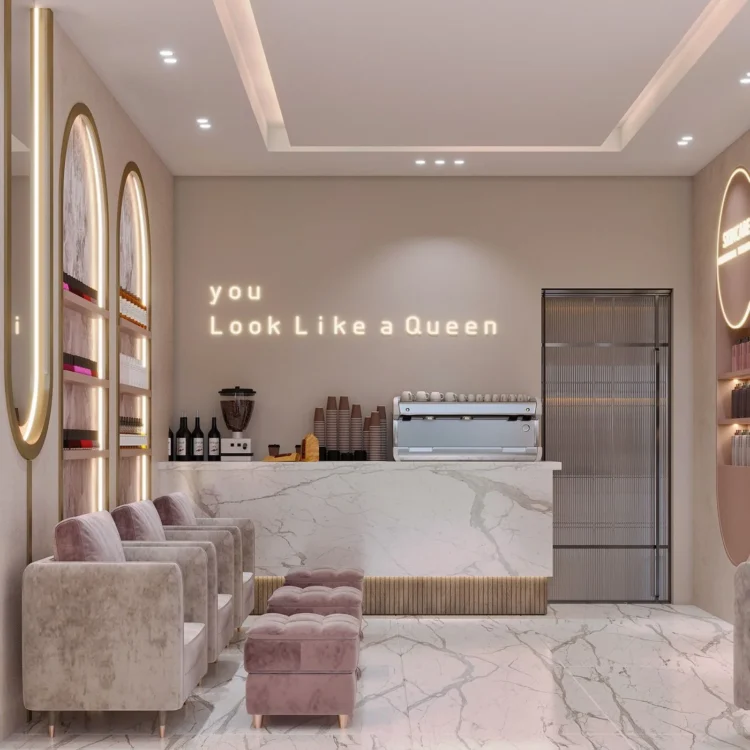 How We Work
Our approach to creating the ultimate beauty salon nail station area interior design and fit-out is cautious and client-centric. We initiate each project by thoroughly understanding our client's vision, which becomes the foundation of our customized strategy. Our process is a blend of creativity and technical precision, ensuring that every aspect of the project is considered. We prioritize smooth functionality within our designs, allowing for an efficient and welcoming environment for both staff and clients.
Collaboration with skilled craftsmen and the use of high-quality materials guarantee the durability and elegance of our fit-outs in Dubai. Regular progress updates and transparent communication keep our clients involved and assured throughout the transformation. By integrating the latest trends with timeless style, we deliver a beauty salon nail station area that exceeds expectations.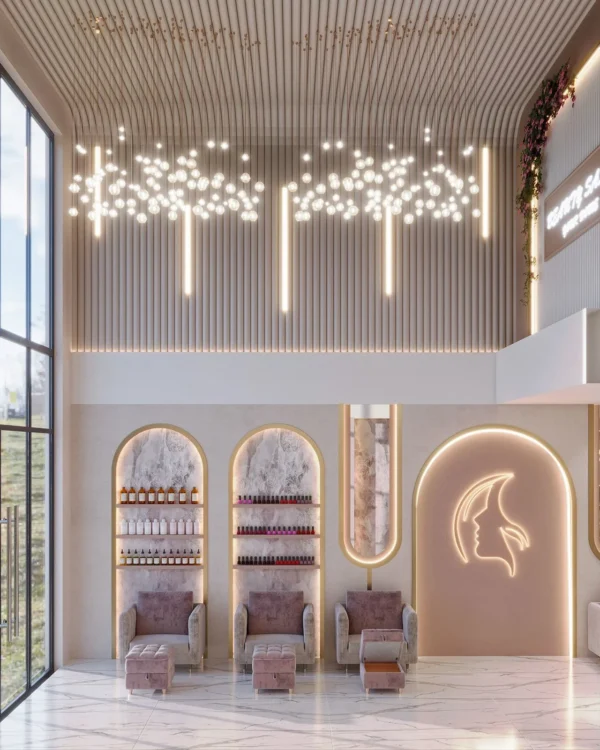 Our Team
The team behind our work is a collective of passionate, innovative, and experienced professionals. Each member brings a unique set of skills to the table, from visionary designers who create the aesthetic aspects to technical experts who ensure the functionality of every station. Our project managers oversee the cautious execution of the nail station area interiors, ensuring that every detail aligns with the agreed-upon concept.

The dedication and cohesion of our team are detectible, as they work tirelessly to materialize the vision of our clients into a tangible, beautiful reality. This synergy allows us to deliver not just a design but a comprehensive experience, reflective of our collective expertise and commitment to excellence in the beauty salon projects.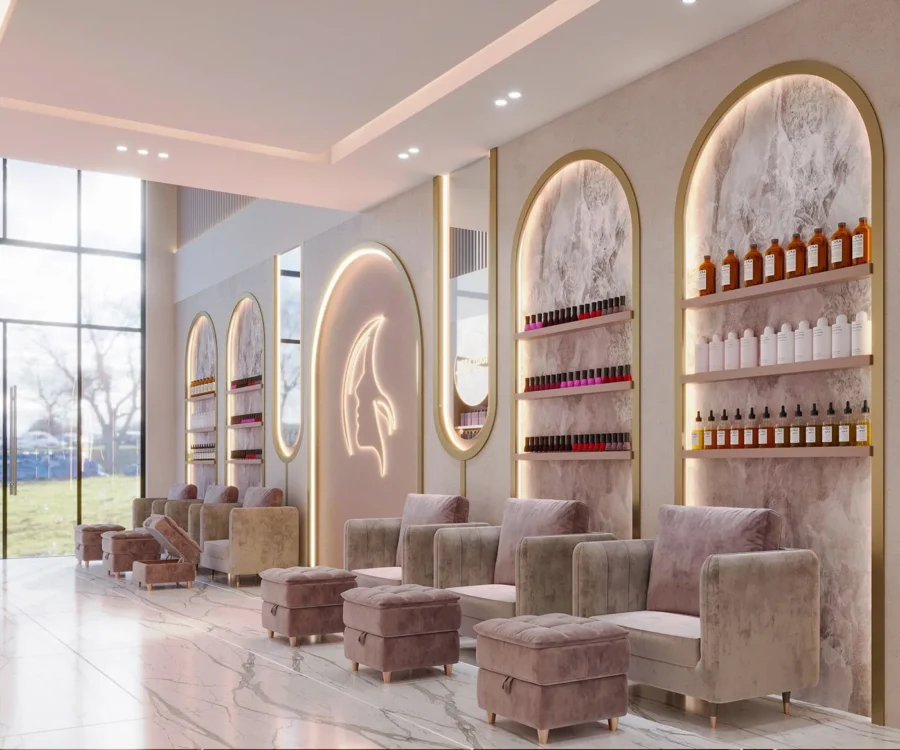 Why Us
Choosing us for your project means going for a partner who is deeply invested in your success. Our portfolio of sophisticated beauty salon nail station area interior designs in Dubai showcases our ability to merge local insights with global trends. We understand that the layout and atmosphere are crucial to the success of your work, which is why we focus on creating designs that match with clients and encourage second visits.

Our commitment to using only premium materials and the latest innovations ensures that your salon will stand out in a competitive market. We pride ourselves on delivering projects that are not only visually stunning but also practical, sustainable, and aligned with your unique brand identity. Trust us to bring your vision to life with a nail station area that becomes a statement of luxury and professionalism.
Explore Other Salon Services