Salon Reception Area Interior Design
We believe that the salon reception area is the focal point of any salon interior design.
Our Salon Reception Area Interior Design
The beauty salon reception area interior design and fit-out serves as the first point of contact for clients, setting a luxurious and inviting tone with its elegant furnishings and thoughtful layout in Dubai. In this space, modernity speaks through clean lines and a neutral palette, accented with pops of color that reflect the salon's branding. Comfortable, plush seating allows guests to wait in comfort, while the latest magazines are displayed on chic, minimalist shelving.

Strategic lighting highlights the products and enhances the overall ambience. The front desk, a masterpiece of furniture, combines form and function, providing huge space for smooth operations. Attention to detail is evident in every aspect of the fit-out, from the high-quality flooring that withstands high traffic to the artful placement of mirrors that add depth and brightness. A signature scent drift through the area, creating a sensory experience that complements the visual beauty.

Technology is integrated seamlessly, with an advanced booking system and discreet charging stations for guests' convenience. The work we do symbolizes a space that is not just a waiting area but an essential part of the beauty journey. Every element is carefully planned to ensure that the clients enjoy an unmatched experience from the moment they step in.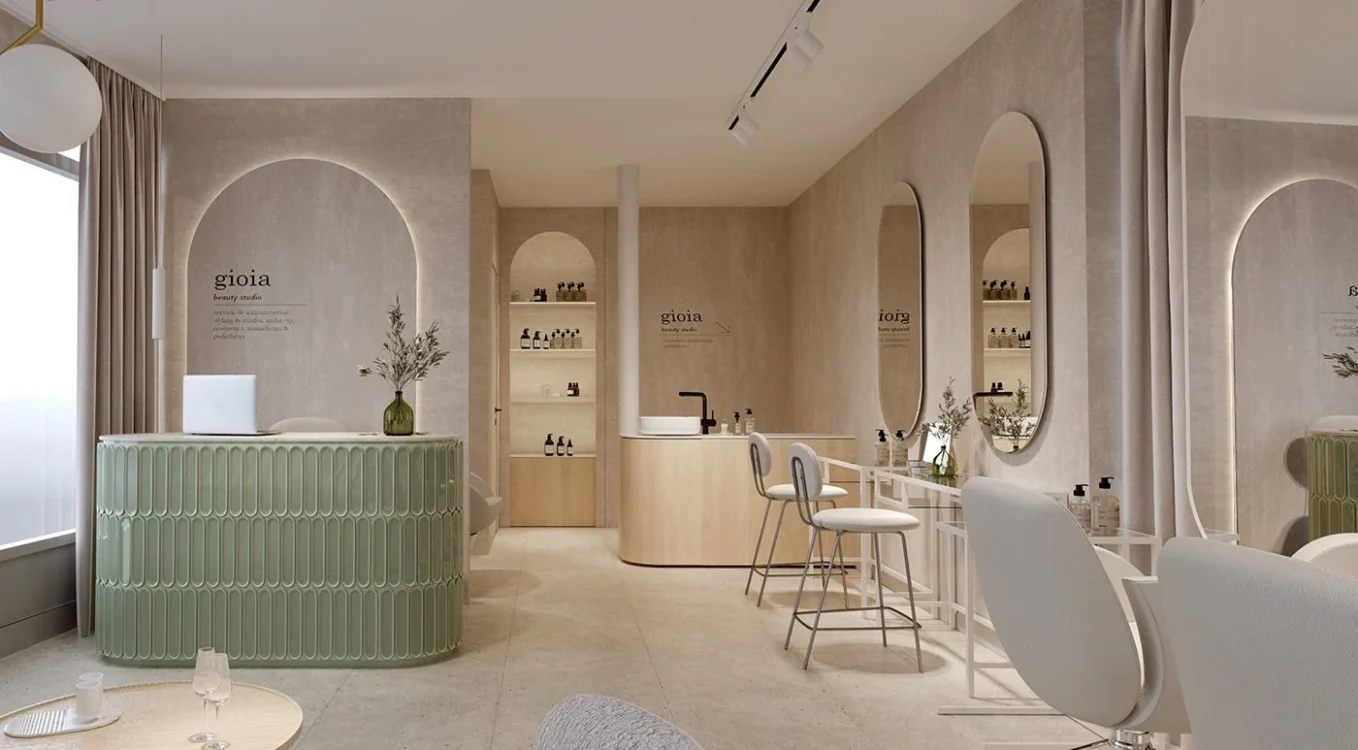 How We Work
At the heart of our approach to beauty salon reception area interior design and fit-out is a client-centered method that prioritizes bespoke solutions in Dubai. From the initial concept to the final touches, we work closely with our clients to understand their unique vision and operational needs. Our process is transparent and collaborative, ensuring that every detail is tailored to create an inviting and functional space.
We employ modern 3D visualization tools that allow clients to see their space come to life before any physical work begins, guaranteeing satisfaction with the end result. Our commitment to excellence is evident in the caution planning and execution of each project, ensuring that timelines and budget limitations are respected. Sustainability is embedded into our work, where we always go for eco-friendly materials and practices, making us a diligent choice for your beauty salon interior design and fit-out needs.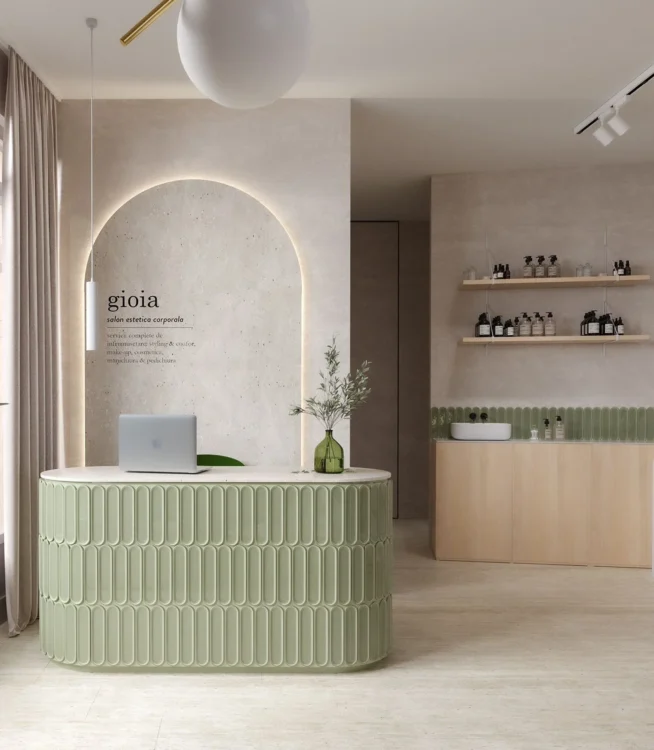 Our Team
Our team of seasoned designers and engineers brings a huge amount of experience and creativity to our company, specializing in beauty salon interior design and fit-out. We are a diverse group of passionate professionals, each contributing their expertise to create exceptional interior spaces that speak volumes of quality and elegance. Our employees stay ahead of the latest trends and technologies, infusing every project with contemporary elegance and timeless style.

The dedication of our skilled engineers ensures that every fit-out is completed to the highest standards, with attention to the smallest details. Collaboration is key to our operation, and our team works in harmony to deliver results that exceed expectations. Whether it's a classic charm or modern magnificence, our team has the capability to bring your vision to life with precision and style.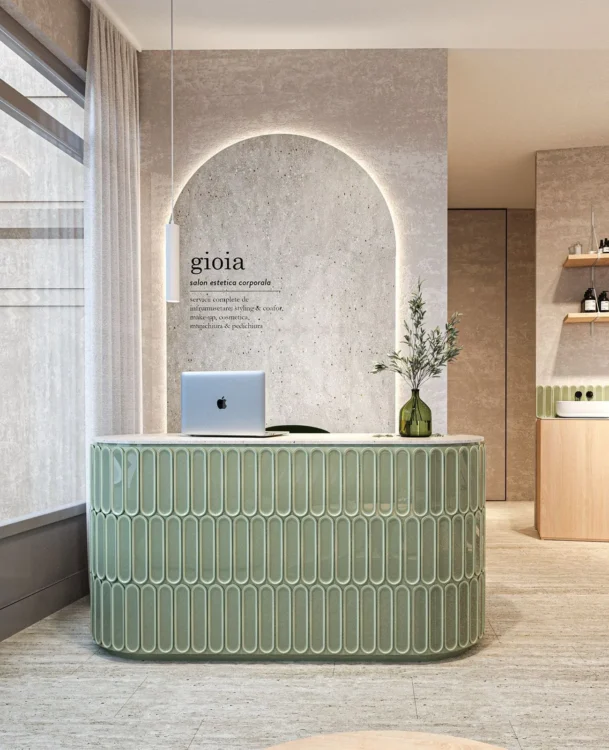 Why Us
Choosing us for your beauty salon reception area interior design and fit-out means selecting a partner that stands for quality, innovation, and customer satisfaction. We differentiate ourselves by not just designing spaces, but by creating experiences that enhance brand identity and client comfort. Our reputation in this domain is built on the foundation of trust and results, with a portfolio that showcases a range of successful projects.

We go beyond aesthetics, combining functional design with operational efficiency, ensuring that every reception area is as practical as it is beautiful. Our comprehensive approach considers every aspect of the client's experience, from the flow of space to the choice of materials. With us, you can rest assured that your beauty salon will make a lasting impression, standing out in the vibrant landscape of Dubai's beauty industry. Our commitment to your success is like nothing else, making us the ideal choice for your projects.
Explore Other Salon Services