Salon Waiting Area Interior Design
We are convinced that the salon waiting area is the highlight of any salon interior design.
Our Salon Waiting Area Interior Design
The beauty salon waiting area interior design and fit-out created by us captures an ambience of serene luxury, inviting clients into a space where comfort meets chic elegance. Every element, from the luxurious seating to the soft, ambient lighting, is thoughtfully placed to create a peaceful retreat for clients. The use of elegant, yet durable materials ensures a long lasting impression while maintaining the practicality needed for crowded area like Dubai.

In designing these areas, particular attention is given to the color scheme, which reflects a palette that soothes and complements the overall design of the salon. The strategic arrangement of the furniture maximizes space and gives an intimate environment for personal engagement. Fine branding is integrated into the interiors, reinforcing the brand's identity and ethos. Modern entertainment systems are discreetly installed to provide clients with leisure while they wait.

The area is also equipped with a selection of premium magazines and refreshments, enhancing the client's experience. Our commitment to excellence is evident in the seamless blend of style and functionality that defines the waiting area. This service is planned to set the tone for a luxurious grooming experience that begins the moment one steps into the salon.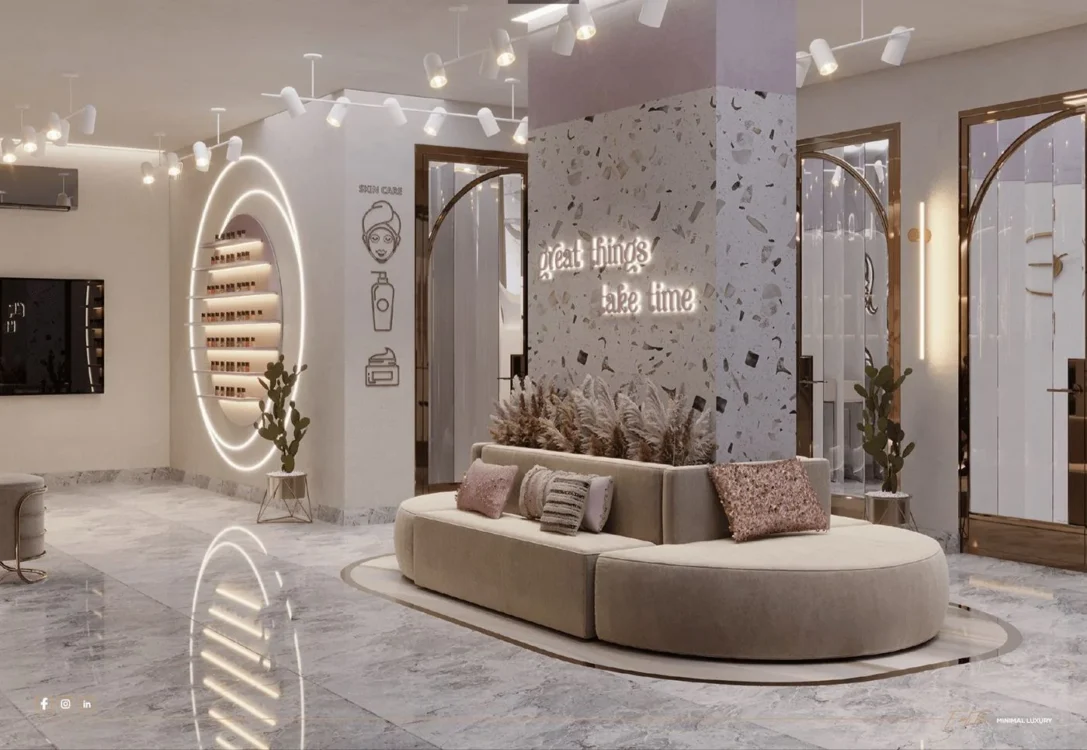 How We Work
Our philosophy for creating the perfect beauty salon waiting area interior design and fit-out in Dubai is initiated in a client-based approach that begins with listening. We take the time to understands the unique character and needs of each client, ensuring that our work reflect the individuality of the brand. Our process is highly collaborative, involving the client at every stage, from initial design concepts to the selection of materials and final installation.
We utilize advanced software to provide realistic renderings, allowing for a tangible preview of the proposed project. Our project management is cautious, ensuring that every fit-out is completed within the agreed timeframe and budget, with minimal disruption to the salon's operations. We pride ourselves on sourcing the finest materials and employing cutting-edge techniques to create waiting areas that are not only beautiful but durable and functional. With a keen eye for detail and a passion for creating welcoming environments, our work is a proof to our dedication to excellence in this domain.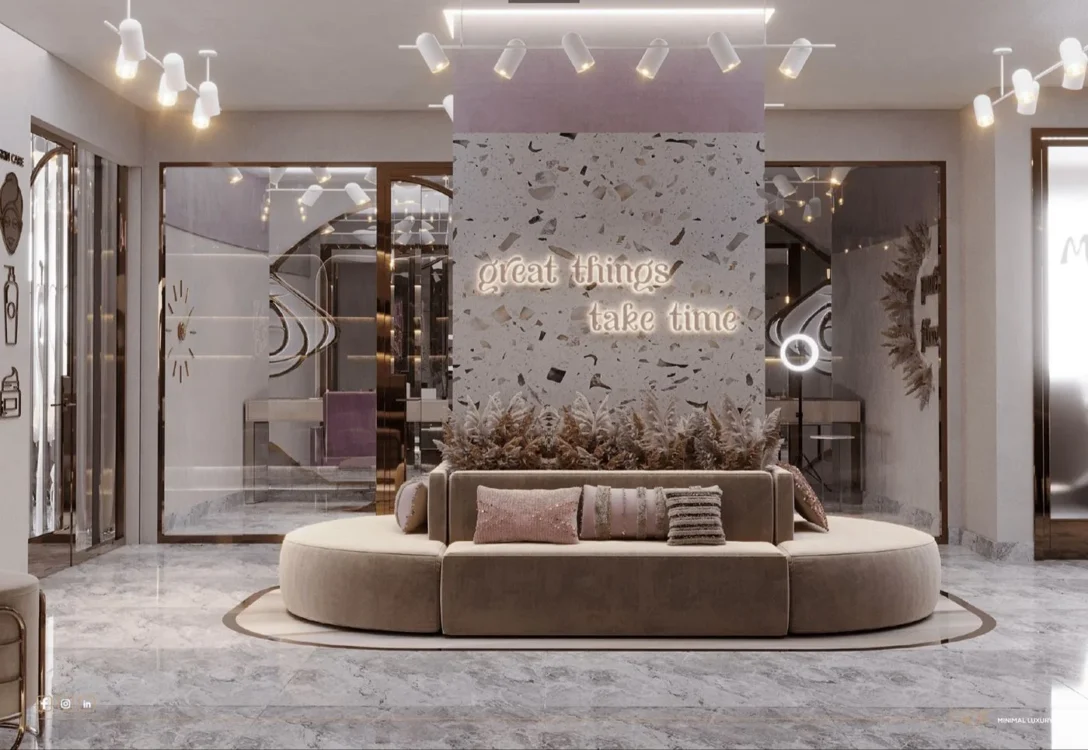 Our Team
The team at Rawabi Interiors is a group of experienced designers, skilled project managers, and great engineers, all united by a common goal: to deliver a unique project. Our employees are at the upfront of the industry, bringing innovative ideas and fresh perspectives to every project. The project managers ensure a smooth process from conception to completion, diminishing any challenges that may arise with precision and grace.
Our engineers are masters of their craft, translating visions into tangible reality with a steady commitment to quality. Together, we are a group of expertise, working in harmony to create beauty salon waiting areas that are not just spaces, but havens that resonate with style and comfort. Our collective experience and shared passion for excellence make us an alarming force in this domain in Dubai.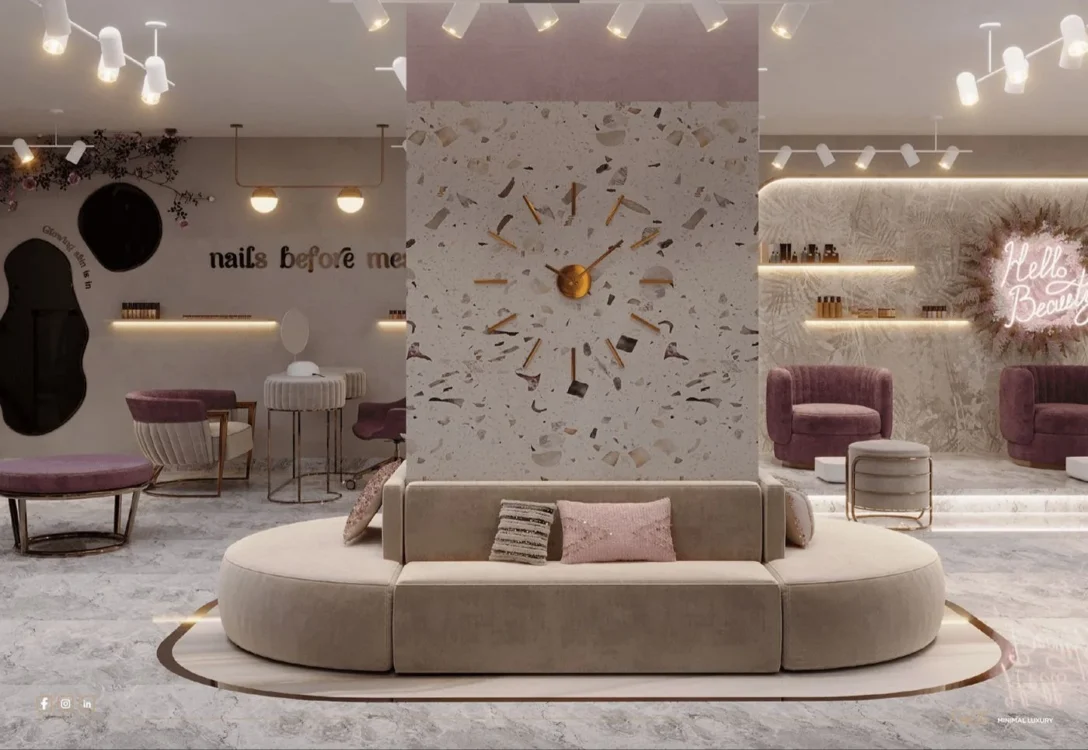 Why Us
Choosing Rawabi Interiors for your project means entrusting your vision to a team that is dedicated to embodying the ethos of your brand in every curve and color. Our bespoke projects are conceived to make a lasting impression on your clients, blending luxury with comfort to create an inviting atmosphere where they can relax before their appointments. We are not just designers; we are innovators in this field, continually pushing the boundaries to deliver spaces that are both aesthetically pleasing and functionally perfect.

Our portfolio shows a lot of examples of our ability to tailor unique environments that cater to the diverse tastes and needs of salons in Dubai. Our commitment to your satisfaction is steady, and we promise to provide an end result that elevates your ambiance and client experience. With Rawabi Interiors, you're not just redesigning a space; you're setting a new standard for waiting areas with a design that's as forward-thinking as it is timeless.
Explore Other Salon Services