Restaurant Interior Design
We believe a restaurant's interiors are as important as the good food served!
Our Restaurant Interior Design
The attraction of the ambiance is just as vital as the cuisine on the menu, and a thoughtfully executed interior design and fit-out can set the stage for an exceptional and unique dining experience.In the heart of Dubai, where the culinary scene is as diverse as its people, a restaurant interior design and fit-out becomes a journey of sensory and spatial discovery.

Tailored lighting schemes cast a warm glow over the diners, highlighting the rich textures and colors chosen to enhance the overall appearance. Each furniture piece is uniquely handpicked, not just for style but also for comfort, ensuring every seat in the place is the best one.The layout of the space is carefully planned to allow for a smooth flow between the kitchen and the tables, a key aspect of efficient interior design.

Striking wall art and decor sourced from local-known artists infuse a unique personality into the environment, making the area stand out. Audio considerations are invented into the layout, ensuring that the lively buzz doesn't overwhelm the customers' conversations.Sustainability is also a cornerstone in all our projects, with materials and practices chosen to minimize environmental impact.

The result of these careful considerations is a restaurant that offers not just a meal, but a memorable and immersive experience. It's this attention to detail that sets apart our work.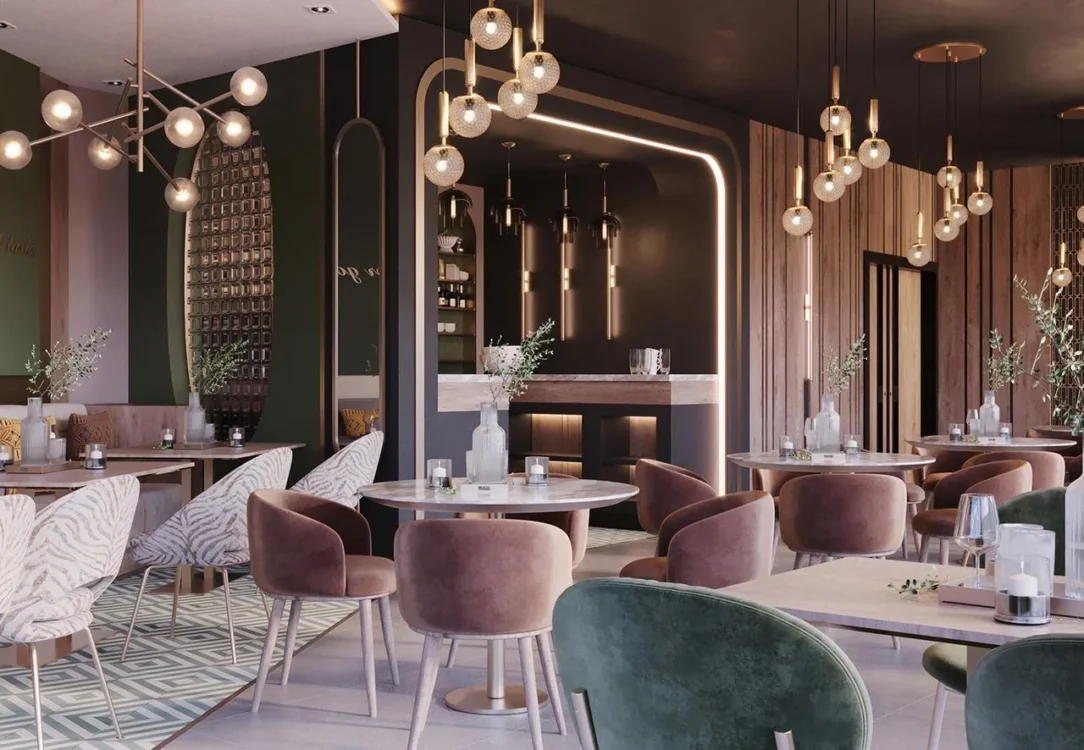 How We Work
Our approach to restaurant interior design and fit-out is grounded in a collaborative process that ensures every client's vision comes to life with precision and creativity. We begin by immersing ourselves in the brand's ethos, which allows us to tailor each project to reflect the unique identity of the brand in Dubai. Our team expertly crosses the complexities of planning and customizing, from initial concept to final installation, guaranteeing a cohesive look that's both functional and enchanting.
We employ modern technology for renderings and simulations, offering our clients a virtual walkthrough of their future space. This meticulous planning minimizes unexpected challenges and ensures a streamlined, efficient execution. With sustainability in mind, we select special materials and techniques that are not only eco-friendly but also elevate the aesthetic of the restaurant. Our commitment is to deliver exceptional quality, on time and within budget, which stands testament to our strong work methods.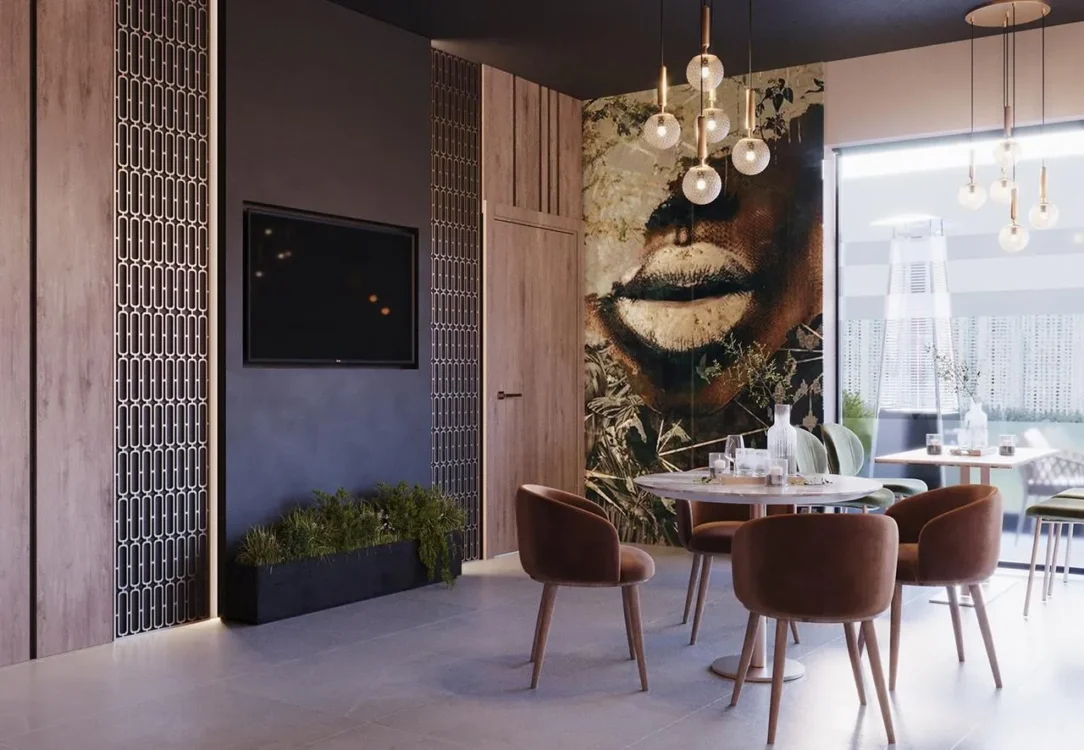 Our Team
At the heart of our success is our team – a dynamic group of creative professionals who are passionate about creating bespoke dining spaces. Our team bring a lot of international experience and local expertise, making us leaders in the market. Architects, interior designers, project managers, and skilled craftsmen work together to bring the vibrant and diverse spirit of UAE into each project.
With an eye for detail and a passion for innovation, our team is proficient at creating spaces that resonate with guests and leave a lasting impression. We stay ahead of the latest trends and technologies to ensure that our work is always modern, yet timeless. Our collaborative spirit means we work alongside clients, contractors, and suppliers with transparency and constant communication. It's this synergy that enables us to execute a restaurant with unique art.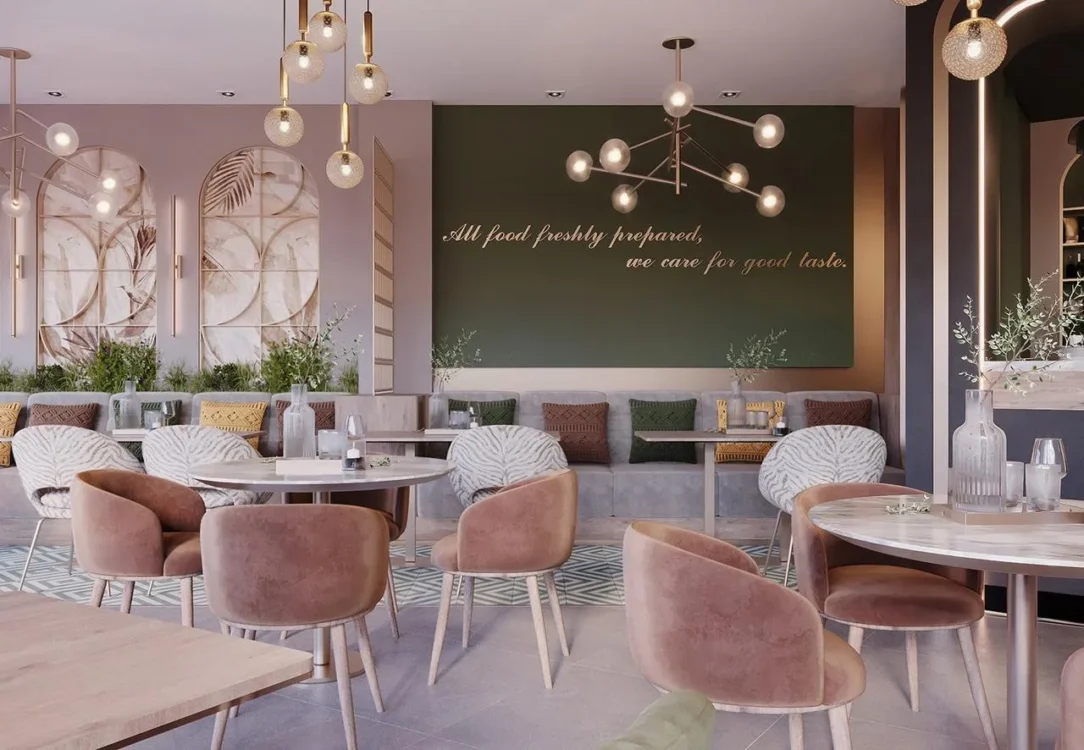 Why Us
Choosing us for your restaurant interior design and fit-out project means partnering with a firm that understands the pulse of the city's diverse clientele. Our proven track record of delivering exquisite interiors comes from our dedicated focus on bespoke scheme and quality production. We go beyond aesthetics, considering every aspect of the operations to ensure that the work done is as practical as it is beautiful.
Our client-centered approach guarantees personalized services, with each project reflecting the unique brand story and ambiance desired. We pride ourselves on creating spaces that not only attract customers but also enhance their dining experience, resulting in the restaurant's success. Our commitment to innovation, excellence, and sustainability makes us the preferred choice for your job. With us, you're not just building a restaurant; you're creating an experience that stands out in Dubai's competitive culinary scene.
Explore Other Hospitality Services