Clinic Bathroom Interior Design
We hold that the clinic bathroom plays an important role in the overall healthcare design experience.
Our Clinic Bathroom Interior Design
In Dubai's dynamic atmosphere, Rawabi interiors excels in transforming clinic bathrooms into stylish and functional spaces. Our design embodies UAE's spirit of elegance and modernity, ensuring that every detail reflects the city's high standards. From lighting to layout, fixtures to finishes, our holistic approach creates visually appealing and hygienic spaces. Whether establishing a new healthcare facility or renovating an existing one, we offer unmatched expertise in this field, aligning with the city's commitment to excellence.
How We Work
At Rawabi, our commitment to excellence aligns with Dubai's cultural values. Our systematic and personalized approach to clinic bathroom interior design begins with a thorough consultation to understand your unique needs and aesthetic vision. Personalization is key in a dynamic city like UAE, where the overall décor must reflect your brand's identity to stand out. Moving to the conceptualization stage, our skilled team use state-of-the-art tools, merging UAE's luxurious aesthetic with the functional requirements of a clinic bathroom.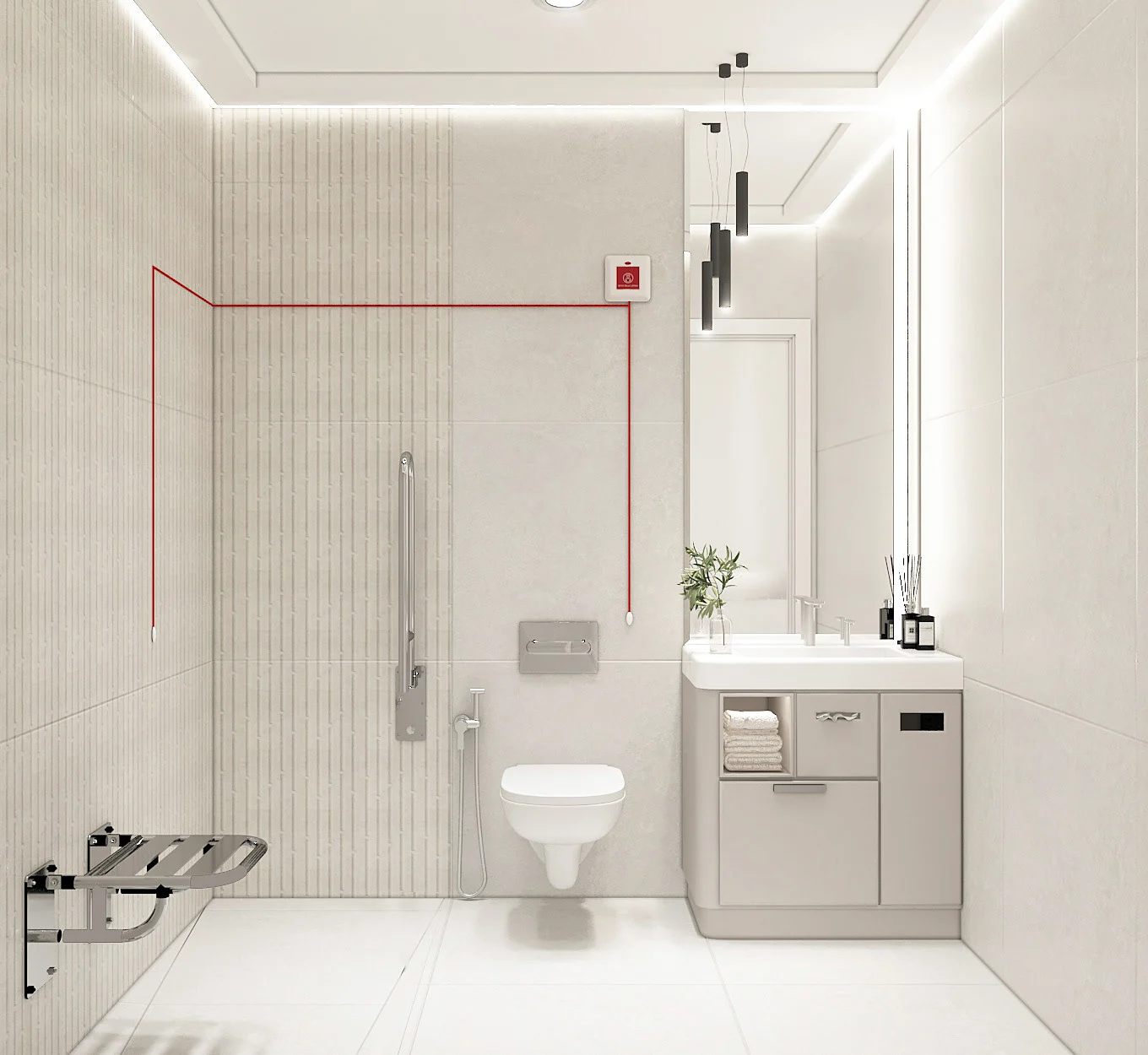 Our Team
At Rawabi, our approach to clinic bathroom interior design is grounded in a deep comprehension of the unique demands of healthcare settings. Our careful plans guarantee a harmonious blend of elegance and practicality, emphasizing both patient comfort and hygiene. Drawing on high-end materials and finishes, we fashion toilets that stand as a testament to refined taste and functionality.

In a city like Dubai, where luxury is paramount, our layouts offer a serene oasis, ensuring patient well-being and satisfaction. Furthermore, as healthcare spaces require specialized attention, our projects are compliant with all local regulations without sacrificing aesthetic allure. Whether it's ensuring easy accessibility or employing germ-resistant finishes, we prioritize every detail for the utmost patient care.
Why Us
In the ever-competitive landscape of UAE, the choice for clinic bathroom interior design services may seem overwhelming. Yet, we stand out as the go-to choice for discerning clients. There are compelling reasons why we remain a favored option in the busy metropolis of UAE.
Firstly, our team is not merely about aesthetics; they are deeply rooted in functionality and practicality. In a high-stakes healthcare environment, especially in a city as advanced as UAE, this dual focus is invaluable. We don't just create spaces that look good; we create a space that work efficiently for both medical staff and patients.
Explore Other Clinic Services