Office CEO Room Interior Design
We believe the CEO Office is the place to morally incorporate all company visions.
Our Office CEO Room Interior Design
Step into the haven of corporate excellence with our CEO office interior design and fit-out, where visionary leadership meets unmatched elegance. At the heart of our layout lies a bespoke executive desk, a commanding centerpiece that is both a work of art and a symbol of decision-making power. The room's spatial dynamics are crafted to inspire innovation, with panoramic windows that offer a wide view, connecting the CEO to the vibrant pulse of the city beyond.

Our work is highlighted with premium materials such as rich mahogany panels and Italian leather seating, exuding sophistication and power. modern technology is discreetly integrated, offering seamless connectivity without disrupting the room's polished aesthetic. Thoughtful lighting complements natural light to enhance focus and vitality throughout the day. For this specific room, we create an atmosphere that balances professional accuracy with personal comfort, featuring artworks and strategic greenery that revitalize the senses.

Every element is cautiously chosen to reflect the unique brand and ethos while upholding the highest standards of luxury and functionality. Our fit-out services ensure that the transition from design to reality is flawless and efficient, summarizing the excellence that is expected of Dubai's elite. At Rawabi Interiors, we deliver a space that is not just a place of work but a projection of leadership and aspiration.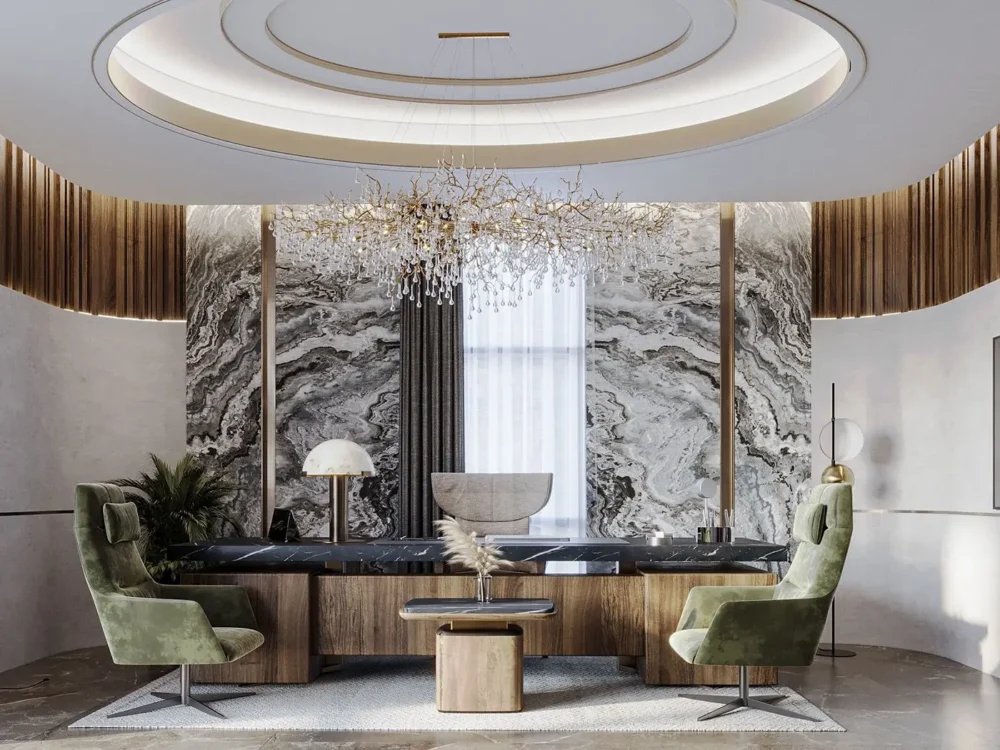 How We Work
At Rawabi Interiors, our methods for CEO office interior design and fit-out is rooted in a bespoke approach that caters to the highest levels of leadership. We initiate each project with a deep dive into the vision, carefully translating their unique leadership style into every aspect of the layout. Our collaborative process involves the client at every step, ensuring that the CEO's room design aligns with their aspirations and functional requirements.

Precision in execution is our trademark, as we employ advanced tools and project management techniques to bring these spaces to life with careful attention to detail. Innovation is at the upfront of our work, integrating cutting-edge technology and smart office solutions to create a space that is both impressive and intuitive. Our commitment to excellence is unique, and we stand by the belief that a this space is more than a workspace—it's a statement of their legacy.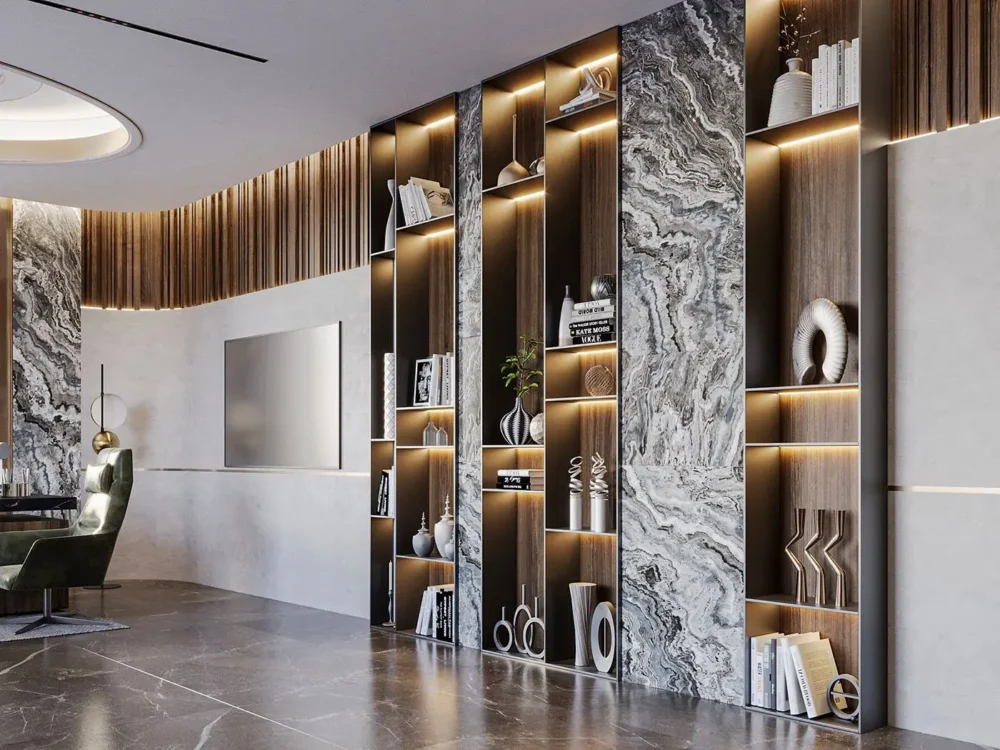 Our Team
The creative force behind Rawabi Interiors is a diverse team of seasoned designers, architects, and artists who specialize this domain. Each member is handpicked for their expertise and their passion for crafting spaces that go perfectly with power and sophistication. Our team is a group of experts of luxury, infusing each CEO office area with a sense of distinction and exclusivity.

The artists we collaborate with are masters of their craft, ensuring that every element within the room is executed to perfection. Our project managers serve as the backbone of the operation, arranging the process seamlessly and upholding our promise of quality and punctuality. Together, our team is dedicated to creating iconic spaces that reflect the stature and forward-thinking mindset of Dubai's business leaders.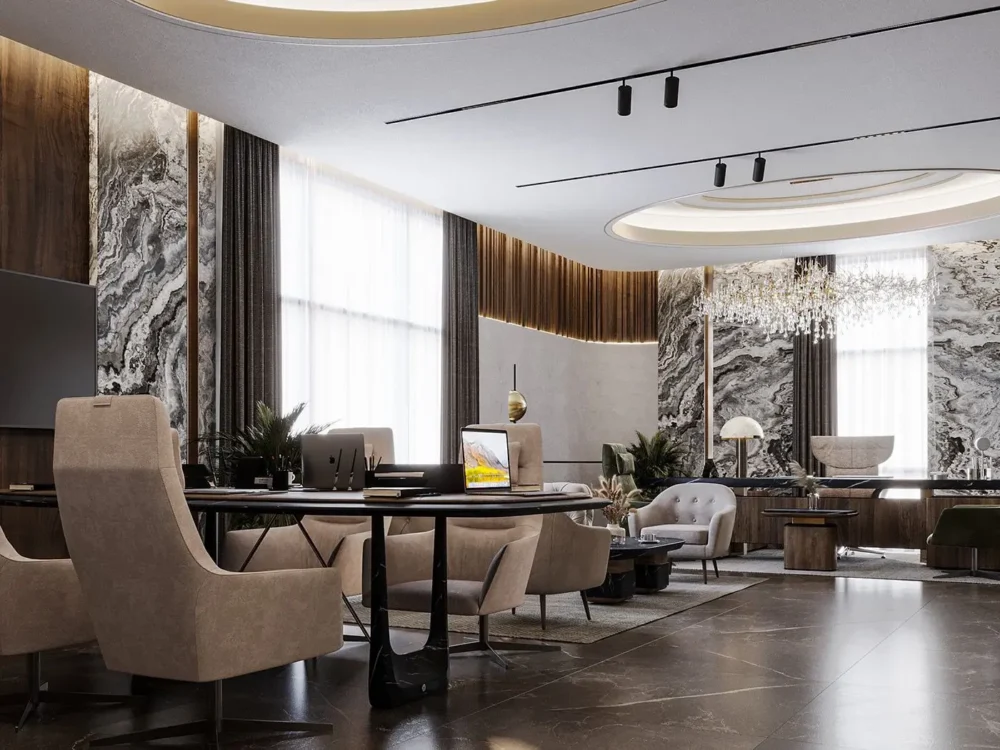 Why Us
Choosing Rawabi Interiors for your project means entrusting your vision to a team that is compatible with prestige and perfection. We understand that a CEO's office is a powerhouse of strategy and innovation, and our projects are carefully designed to support this dynamic. Our body of work in this domain stands as a testament to our ability to deliver environments that are not only aesthetically abstract but also embody the essence of executive functionality.

We are not just designers; we are architects of experience, ensuring that each space is a place where decisions are made, futures are planned, and legacies are built. With Rawabi Interiors, you receive more than a fit-out service; you gain a partner who is committed to elevating your leadership journey to its highest potential.
Explore Other Office Services