Office Manager Room Interior Design
The room of leaders, achievers, and decision makers
Our Office Manager Room Interior Design
Step into an empire of elegance and productivity with our manager's office interior design and fit-out, where the blending of contemporary aesthetics and comfortable functionality is essential. Each element within the room is carefully crafted to reflect the prestige of managerial duties, from the sleek, handcrafted desk that anchors the space, to the luxurious, high-backed leather chair that offers comfort during decision-making processes.

The newest technology is smoothly integrated, ensuring connectivity and efficiency, while bespoke shelving and storage solutions present a clutter-free environment, crucial for focus and creativity. The lighting scheme is a thoughtful blend of ambient, task, and accent lighting, creating an atmosphere that is both inviting and conducive to prolonged periods of work. The color palette is a peaceful balance of neutral tones and bold accents, inducing a sense of calm and authority. For the interiors, every solid surface, from the plush carpet underfoot to the smooth, cool touch of marble accents, speaks to a standard of luxury and attention to detail.

Ventilation is cautiously engineered to maintain a comfortable environment, reflecting the cutting-edge standards of the manager's room interior design and fit-out. The room's layout is meticulously planned to allow for both crucial and quick meetings and solitary work, embodying the dynamic nature of management. Accents of local artists add a touch of Dubai's rich cultural heritage, enhancing the room's distinctive character. Our commitment to creating an unmatched design ensures that every leader is equipped with a space that is not just a room, but a statement of their professional ethos.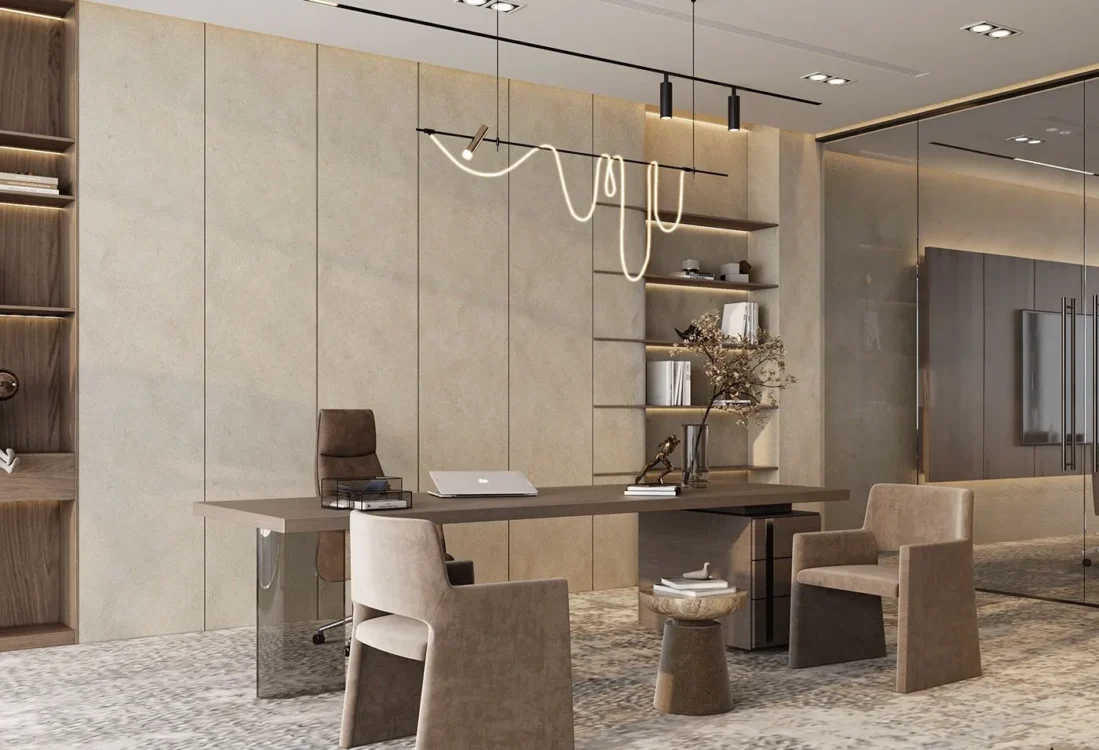 How We Work
Our approach to manager's office interior design and fit-out revolves around a client-centered method, ensuring that every project is a reflection of the individual's managerial style and the company's brand. We begin by understanding the unique requirements of your space, followed by a thorough analysis of the room's potential. Our process is transparent and collaborative, involving the client at every stage to ensure that the final result exceeds expectations.

We employ advanced techniques, from 3D visualizations to virtual walkthroughs, allowing clients to experience their office's interior design before implementation. Our team is cautious, adhering to strict timelines and budget constraints without compromising on quality. Sustainability is implemented into our practices, with eco-friendly materials and smart layouts that reduce environmental impact. With a focus on innovation and excellence, we transform any manager's room into a haven of professional ambiance and functional decor.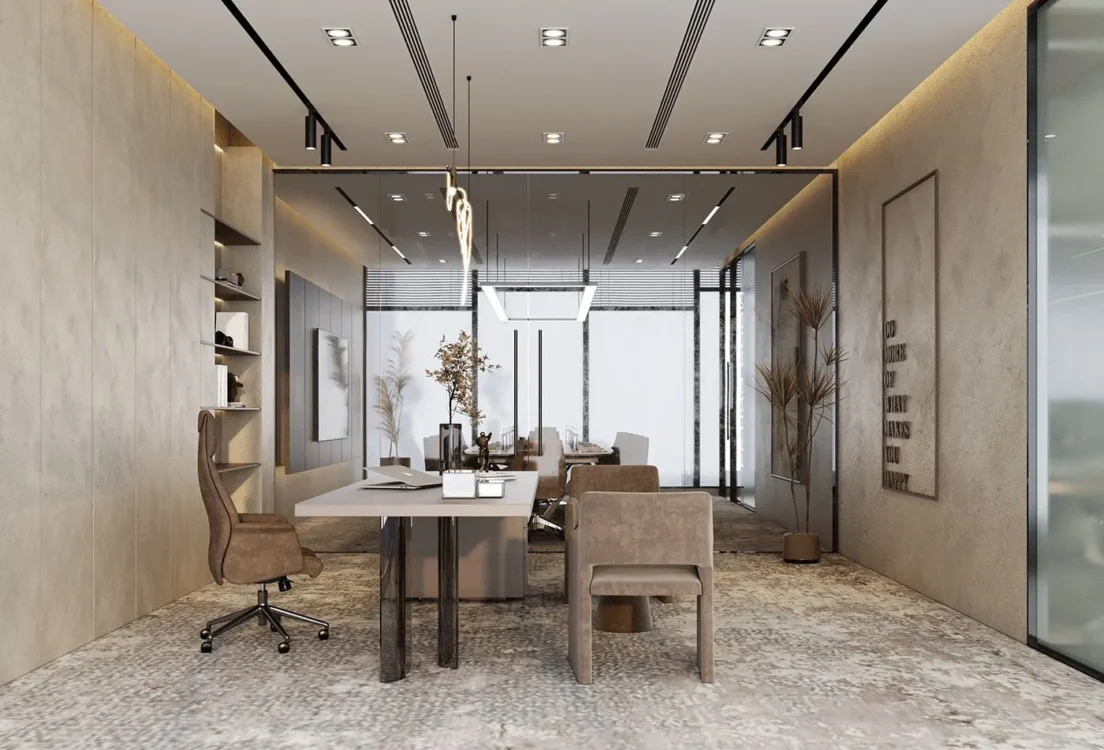 Our Team
The team at our firm is a group of experienced designers, skilled craftsmen, and project supervisors who specialize in manager office interior design and fit-out. Each team member brings a wealth of knowledge and creativity, ensuring that every project is a masterpiece of comfort and style. Our team stays ahead of the latest trends and technologies, infusing your space with contemporary style and timeless elegance.

The craftsmen in our team are chosen for their exceptional skills and dedication to delivering perfection in every detail, from bespoke furniture to custom finishes. Project supervisors act as your personal liaison, guaranteeing a smooth and satisfying journey from concept to completion. As a collective, our team is committed to creating spaces that empower managers and illustrate the sophistication of Dubai's business landscape.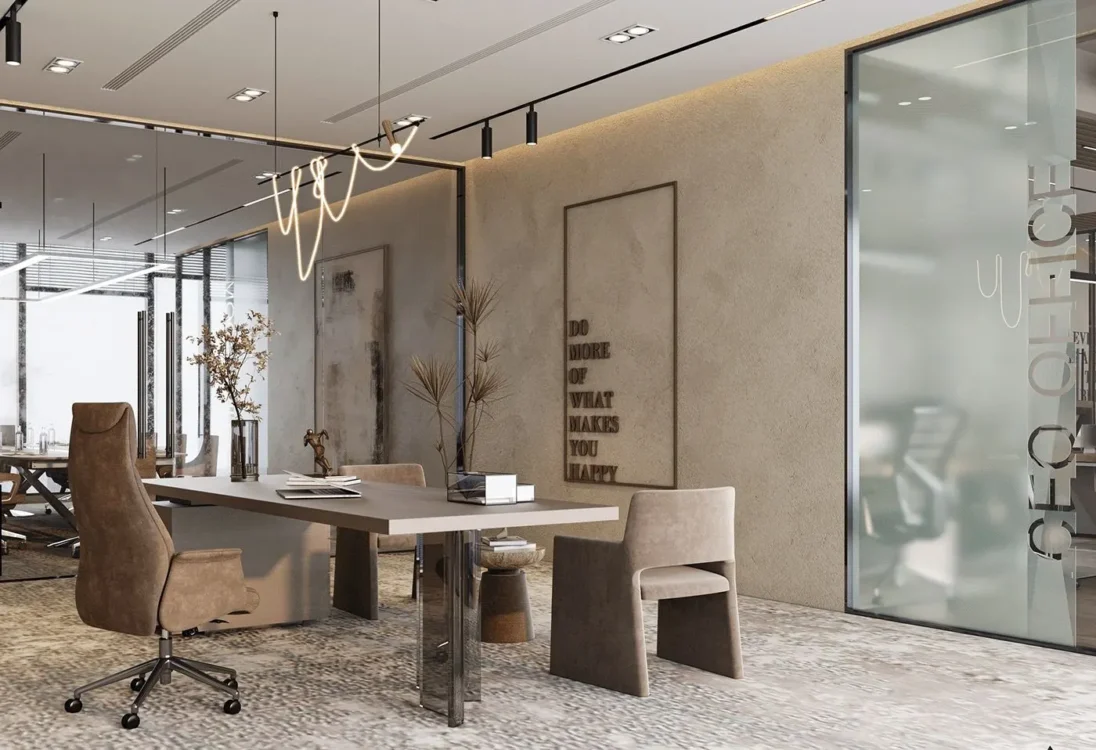 Why Us
Choosing us for your project means selecting a partner that is compatible with uniqueness and quality. We pride ourselves on creating environments that not only look spectacular but also enhance the productivity and well-being of every leader. Our portfolio showcases a range of successful projects, each bearing the hallmark of our commitment to innovation and flawless fit-out execution.

We understand the pulse of Dubai's fast-paced corporate scene, and our projects are crafted to create a space that is both inspiring and practical. Our client testimonials speak volumes of our ability to deliver on promises and exceed expectations. When it comes to manager office interior design, we don't just create spaces; we create experiences that are as unique as the leaders who stay in them. Partner with us to see how we blend functionality with luxury, creating an office that stands out.
Explore Other Office Services