Office Staff Bathroom Interior Design
We believe staff bathrooms should include smart use of space, ease of maintenance, and the well-being of users.
Our Office Staff Bathroom Interior Design
Rawabi Interiors specializes in Office Staff Bathroom interior design and fit-out, providing practical yet stylish solutions tailored for the needs of working professionals. Our method ensures that each layout is not only aesthetically pleasing but also fully functional, accommodating the high-traffic nature of corporate environments. We use space-saving fixtures and durable materials to withstand the daily use and ensure longevity.

Our work incorporates privacy partitions and sound-proofing features to enhance comfort and discretion. We are skilled at creating layouts that facilitate easy and quick cleaning, ensuring that the toilets remain hygienic and well-maintained. By incorporating energy-efficient lighting and water-saving technology, our projects are both environmentally conscious and cost-effective.
The color schemes we select are chosen to give a sense of calm and relaxation, providing a brief break from the busy workday.

For those seeking a bathroom interior design and fit-out in Dubai that balances form with function, we are the premier choice. We understand that a well-created space can significantly contribute to staff welfare and satisfaction, which is why we pay attention to every detail, from the choice of tiles to the quality of fixtures.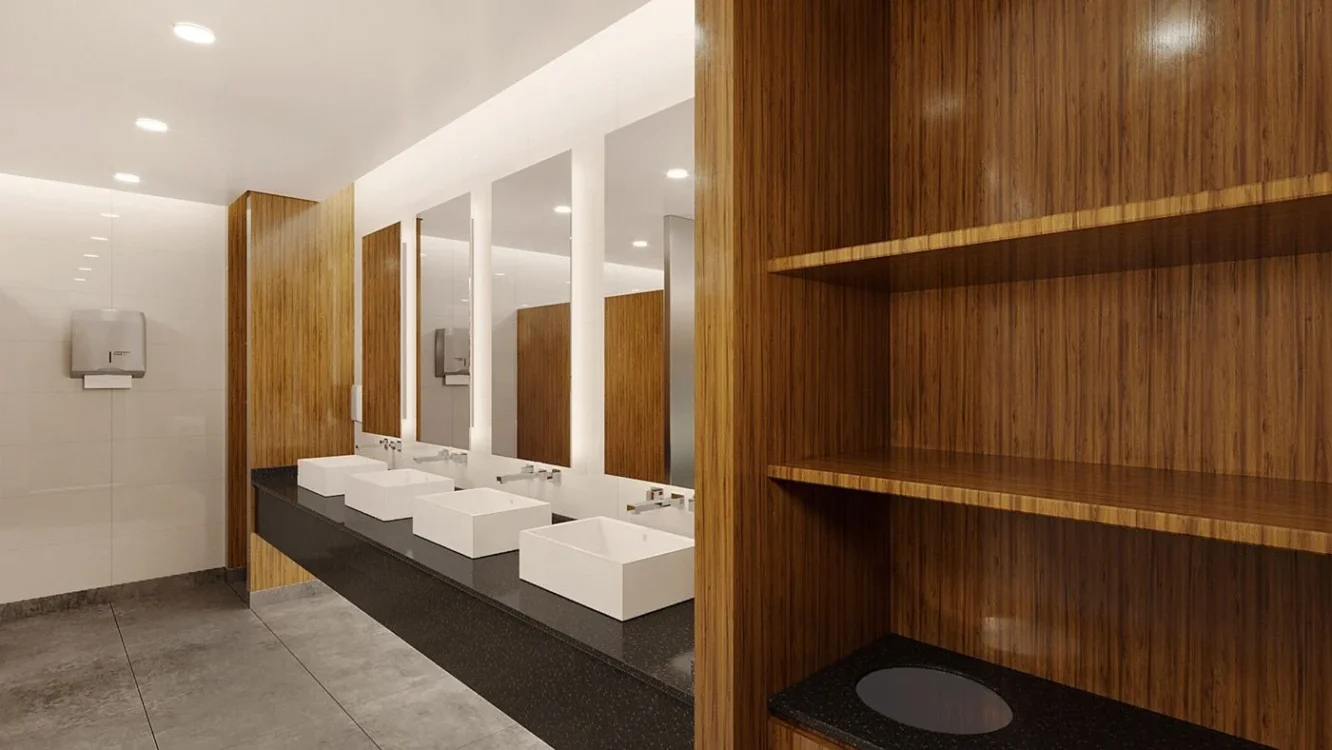 How We Work
At Rawabi Interiors, our approach to Office Staff Bathroom interior design and fit-out is organized and client-focused. We start by assessing the specific needs of your employees and the logistic demands of your space, ensuring that our work promotes comfort and efficiency. Our process is interactive, involving clients at every stage to ensure the final result is fully aligned with their vision and functional requirements.
We bring precision to planning, using advanced 3D modeling to provide a realistic preview of the proposed design. Our project management is cautious, with a clear timeline and budget adherence, ensuring a smooth and transparent journey from concept to completion. We integrate innovative features such as touchless faucets and automatic soap dispensers to enhance hygiene and user experience. For a space merges aesthetic appeal with practicality, we are the go-to provider, guaranteeing a space that is both welcoming and resilient.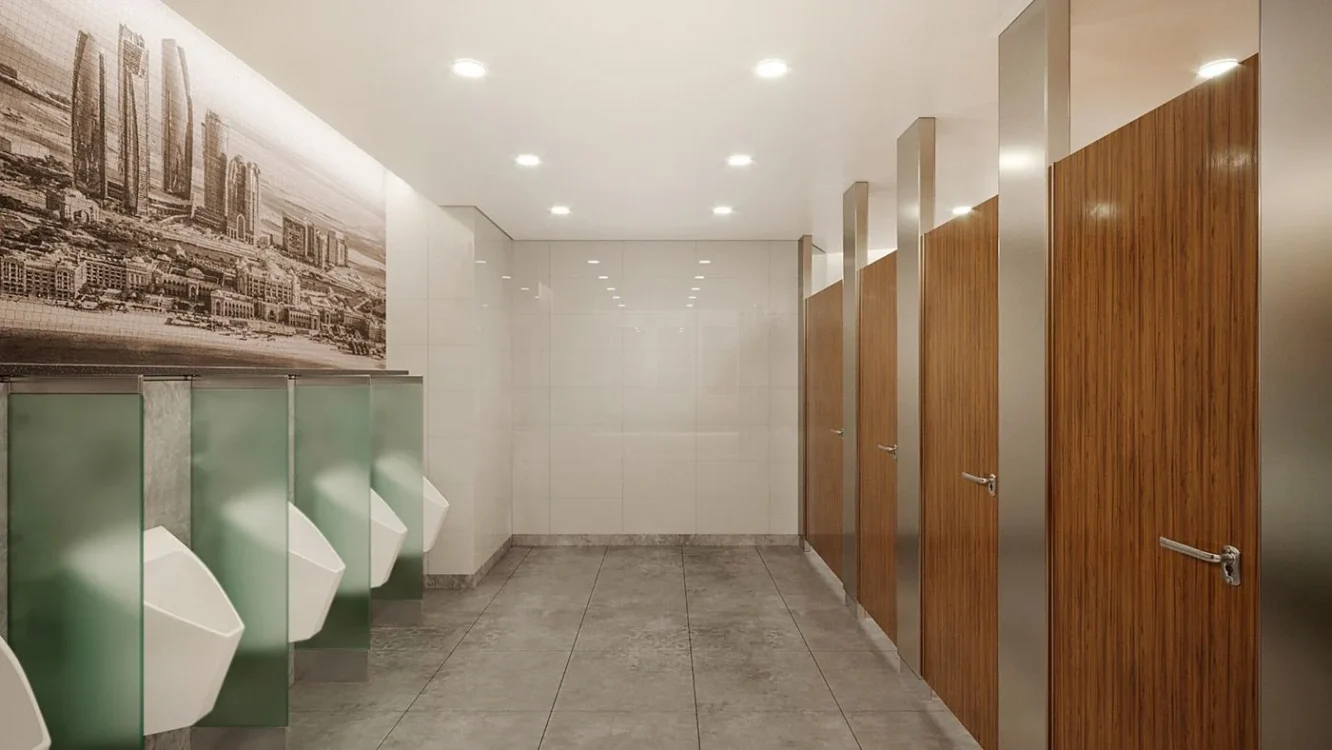 Our Team
The team at Rawabi Interiors is a dynamic group of skilled designers, architects, and technicians who excel in Staff Bathroom interior design and fit-out in Dubai. Our experts are great at creating spaces that are both modern and timeless, ensuring that each toilet stands up to the trends and the test of time. Our architects specialize in maximizing space utility, while our technicians ensure that every installation is executed to perfection.
The craftsmen we collaborate with are committed to quality, using strong good quality materials that guarantee longevity and ease of maintenance. At the helm, our project managers oversee the complex details of each project, ensuring that every aspect is completed to the highest standards. Our collective expertise means that we are equipped to handle the unique challenges of designing spaces that are both functional and refreshing retreats.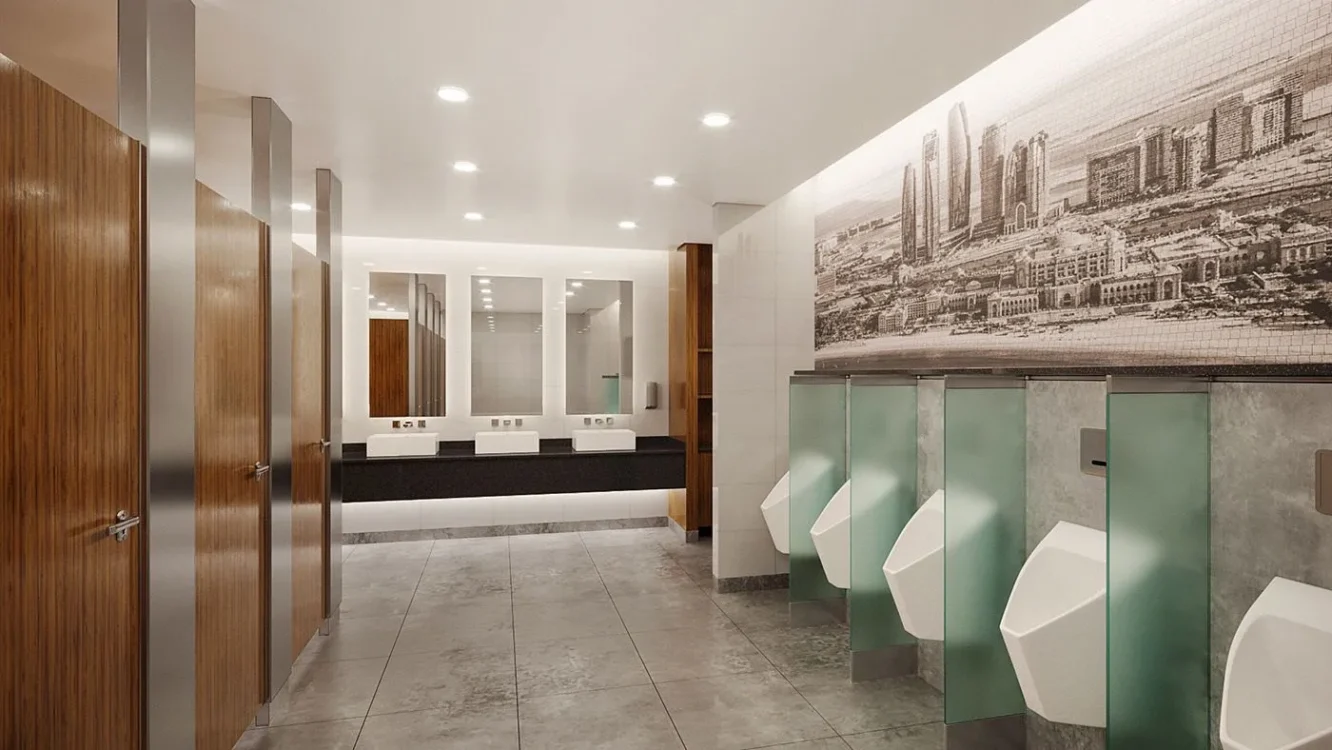 Why Us
Selecting Rawabi Interiors for your project means choosing excellence and expertise. We recognize that a well-designed bathroom goes beyond mere functionality; it is a statement of your company's values and care for its employees. Our portfolio showcases a range of office staff bathroom interior designs that are as efficient as they are elegant.
We are dedicated to creating spaces that enhance the daily routines of staff, with careful consideration for environmental impact through sustainable practices. Our commitment to delivering unmatched quality and innovation sets us apart. With us, you get a partner that is invested in providing a result that is not only practical and durable but also a reflection of your company's commitment to quality and employee satisfaction.
Explore Other Office Services